70%: A rough estimate of how much my current wardrobe came from thrift stores. Other sources of clothing include hand-me-downs and other people's cast-offs. I hardly shop at malls for the simple reason that I dont have enough resources to do so. I greatly enjoy window shopping at the malls, but that's all I can do: browse the racks and ogle at the beautiful, clean and unworn clothing but go home empty handed. I cannot justify that things that are basically just a yard of cloth cost an arm and leg for subpar quality and a high street label. There are well-designed and affordable local boutiques (maybe I'll do a post about those one of these days) but I cannot shop at those places regularly. To be honest though if my family were doing better financially shopping at thrift stores wont even cross my mind. In my mind, the thrill of getting a shirt, dress or shoes that's different from the ones sold at the mall is only secondary to the money I save buying those things at rock-bottom prices.
I'm not sure if I'm wearing this dress correctly, as the collar has buttons all the way to the ends, so I just let it flop around the shoulders.
For some reason this reminds of something by Alexander Wang, or maybe I'm just delusional. People seem to like this sweater a lot. I wore it to school the other day and a handful of people complimented it, which does not happen to me, ever. My friends probably think I dress oddly.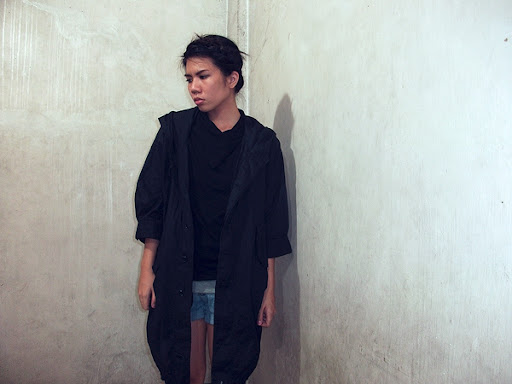 UK Underground Anorak, 100php, Baguio
This parka/ windbreaker/ wizarding robes/ garbage bag will be most useful udring the monsoon season. Check out the huge sleeves.
I'm going up to Baguio (again!) in about 10 hours with my friends this time and we dont even have a definite place to stay. Do not attempt to find a good and affordable (which I have very stringent definitions of) four four in Baguio this time of the year mere hours before departure. We'll be there Friday morning until Sunday afternoon and I plan to bring about 3000php with me, let's see how long that will last.