December 25:
Christmas Day was rather eventful. After winning twice in the family bingo during Noche Buena (on regular round and the final, grand prize round, total winnings: 1100php), I must have been too overjoyed because I woke up the following morning with a very sore throat, which later progressed into a fever and a cold. That, however, did not stop me from feasting on lasagna, shrimp, crab, crispy pata and chestnuts for Christmas lunch. The fever was taken care of with a cocktail of Gatorade and Bioflu and Amoxicillin every four hours.
December 26, Evening:
My older sister and I started the 6-hour bus trip to Baguio at around 10pm and arrived at a little past 4am. The bus was freezing but compared to Baguio it was toasty. We were hit by the biting cold as soon as we stepped off the bus. We thought eating balut would help warm us up, but my sister and I cant even chip off the eggshell because our hands were shaking so much. I desperately wanted gloves. Holding the warm balut with bare hands (which would be impossible in Manila) did little to ward off the chill (or the freeze, to my lowland self).
Driving along Session Road in a taxi, I cant help but notice how similar Baguio is to Manila. Present are all the fast food chains. Even the taxi drivers are the same; Baguio taxi drivers drive with no respect to speed limits and happily disregard the fact that the side of the zigzagging road is a cliff.
December 27, Morning: My family and I started the following day going the usual tourist routes: La Trinidad Valley for the strawberries, Tam-awan Village, Lourdes Grotto, Mines View Park, Good Shepherd. The last time I've been to Baguio was more than a decade ago. To be honest I cant even remember how Baguio looked like then.
Holding my cup of strawberry taho with a gloved hand at long last.
Tried strawberry taho for the first time. I wasn't able to relish it because I ate it with a straw, which is akin to eating spaghetti with a spoon.
asymmetrical jacket, Betty from SM / long sleeved top, thrifted / vest used as scarf / front pocket skirt, thrifted / boots, Bugis Market Singapore
I had to layer leggings over my black tights and I was still cold. I will never look weather-inappropriate in Baguio.
Mucking around the huts in the Tam-awan Village.
My younger sister's hand seems to always get in the way
.
Picture with said sister, who looks like she belongs to the cast of 'Boys Over Flowers.'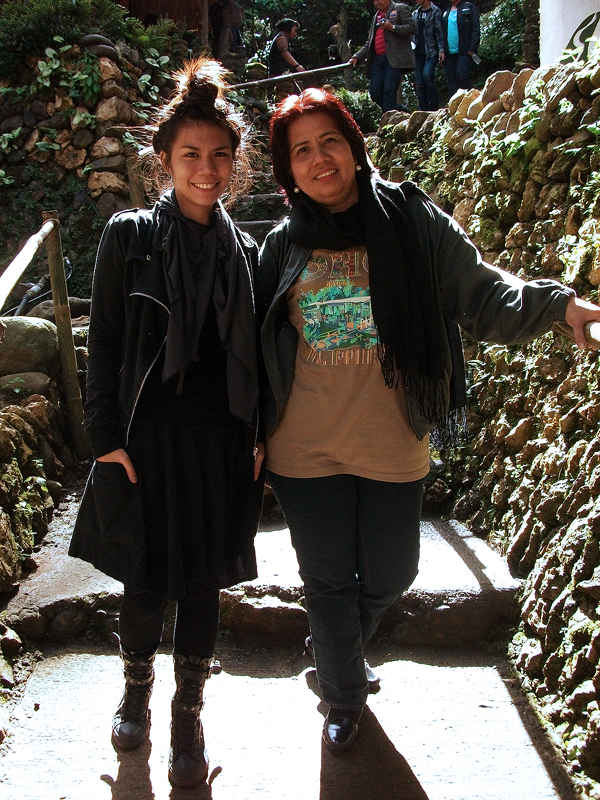 With my mom.
With my older sister, back from Singapore, looking like utter fools.
This was supposed to be a nice, proper photo of the three of us at the Lourdes Grotto.
See you in the next instalment! The next one is going to be quite interesting because it involves shopping and thrifting (which is the main reason why I went up to Baguio in the first place). Goodbye for now. I hope everyone had a nice Christmas.