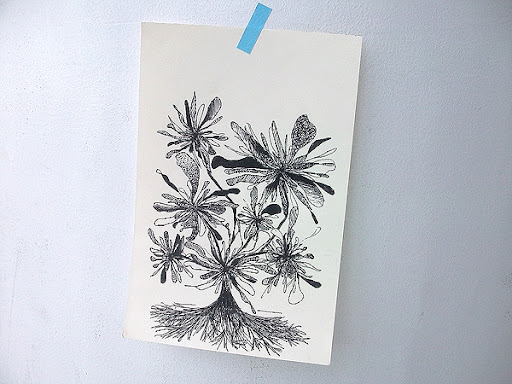 Top: Black gel pen on plain paper
Bottom: Purple Pilot sign pen on plain paper
Some random drawings of flowers? nebulae? explosions? ectoplasmic matter? I made
when I should have been busy finishing my storyboard.
Now you know why I couldn't get any work done.
Also, can I just add how hard it is to find reasonably priced, unlined notebooks/notepads here in Manila? All I want is a plain notebook with plain pages, how hard can it be to source them? And no, I am not willing to pay over 100php for a bunch of paper I will just write crap on. So while the notebooks Fully Booked are selling are perfect (read: unlined and in a variety of sizes) and presumably of quality, the prices they're going for are bollocks. Actually I found the perfect notepad for just 45php at National Bookstore; it has the words 'Jotter Pad' on the front with a silver cover but then apparently half of Manila went out and bought some, and now I cant find it anymore. I drew these
things
on said Jotter Pad. I haven't found a replacement yet because all National Bookstore branches I've been to (a lot) only stock lined notebooks for people who cant write legibly without guidelines. My friends also share this predicament, so much so that whenever one of us is seen with one, that person is immediately subjected to a barrage of Where Did You Get That's and How Much Is That's, only to grumble when the answer is "Overseas." Must I really board a plane just to get my hands on an unlined notebook?
But I digress. I would post more artworks in the future. I would've posted the pencil, pen and coloured pencil rendition I did of the hand detail of Michaelangelo's 'The Creation of Adam,' also known as The Best Drawing I Ever Made In My Entire Life, but then my mom, in a housecleaning daze, conveniently threw it in our waste bin. I threw a tantrum when I found out. I made that particular piece for my Freehand class final project when I was in second year and after that incident I learned not to have my shit lying around the house. Yes, I learn through the hard way.