We were supposed to go see the galleon at the Dia del Galleon Festival last Oct. 8. Supposed meaning, going back for two days because on the first time we came (Friday) they didn't let us in when it when it was only 3.15pm and they were supposed to close the gates at 4pm and on the second time (Saturday), 10am, there was a line so long you cant figure out where the end is and to make things short they also did not let us in because the damn galleon had to set sail at 1pm. Yes, my brother and I lined up for that long; we even ate lunch while standing in line. We wanted to see that freaking ship that bad.
In frustration of two wasted days, I suggested we go to the nearby National Museum instead. The National Museum, for Filipinos who dont know (shame on you!) is located at P. Burgos Ave., Manila, beside Luneta Park. There is a 30php entrance fee for students, although when my brother and I visited we got in free (maybe because it's a Saturday?).
But the museum's not all about ships and maritime trade, there's also an exhibit about Linnaean taxonomy.
Like these preserved reptiles...
...and this charming swarm of locusts.
There's also tons of things to see about out pre-colonial history and indigenous cultures.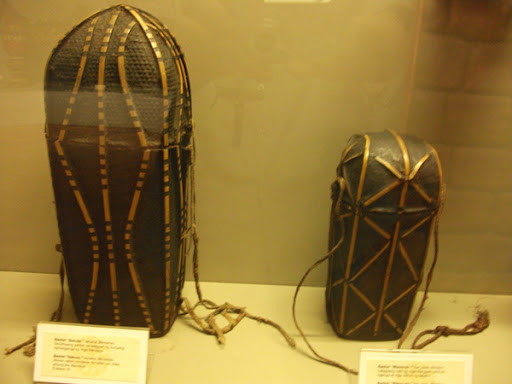 I really like these containers
.
I also really like this backpack.
We weren't planning on visiting the National Museum, but the side-trip was worth it. I wanted to be an archaeologist when I was younger and in fact I almost took up Anthropology for college, so of course I enjoyed it. The only thing that got me down was not seeing the astrolabe (which was on loan to a foreign museum).
To be able to move forward, man must know his history, for history has a lot to tell. Instead of spending time at the mall, go visit the National Museum, if you haven't already. It's cheap, and you'll come out knowing our culture and history better (hopefully). The museum is also air-conditioned (duh), if you're the type who goes to malls just to escape the searing tropical heat. Spend some time learning something new.
***
Answer to last post's question: that's in the Japanese garden at Luneta Park. The pictures when taken Friday when we first tried to see the galleon. 5php gets you inside the mini-gardens. Visiting Luneta Park is another great alternative to the mall. Hop to it!